Most people agree that Black Sabbath were the first heaviest metal band. And perhaps they were. But that doesn't imply they were the first to write a heaviest metal song.
Because, while Ozzy and co. elevated the concept of intense, sinister music performed by evil-looking dudes to new sonic and visual heights, there were plenty of unsettling sounds designed to frighten the bejesus out of listeners long before Tony Iommi's deathly Black Sabbath tritone riff signalled the end (or the beginning?) of the musical world as we know it.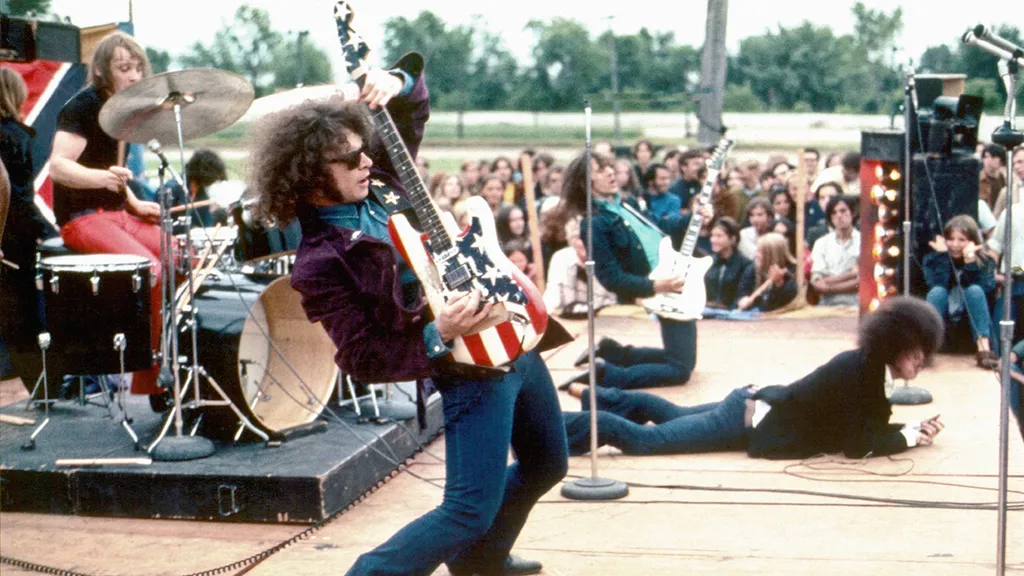 These are the 10 heaviest metal songs
Wild Thing by The Troggs (1966)
Wild Thing was first recorded in a folky tone by American outfit The Wild Ones in 1965, but in the hands of British heaviest metal band The Troggs the following year, it transformed into a proto-garage-punk rave-up with a banging, three-chord pattern, hyper-sexualized voice, and, well, ocarina solo.
From Jimi Hendrix's fiery (literally, he set his Strat ablaze at the climax) feedback-laced performance of the song at the Monterey Pop Festival in '68, to The Runaways' and X's punky takes, to Bruce Springsteen's stomping, arena-shaking live renditions, this version became the heaviest metal template going forward.
This heaviest metal song is so solid, and the riff so catchy, that even comic Sam Kinison's filthy hair-metal parody couldn't undo it – not completely.
Also read about 50 easy acoustic guitar songs.
Helter Skelter by The Beatles (1968)
According to tradition, Paul McCartney was inspired to write Helter Skelter after reading an interview in which Pete Townshend described his own band's I Can See for Miles as the "dirtiest, filthiest" song they'd ever produced.
The song's distorted, dissonant guitars, thudding bass, and shredded vocals not only out-dirty Pete, but also foreshadow and inspire decades of heaviness to come.
Since then, everyone from Mötley Crüe to Rob Zombie to Marilyn Manson (and, of course, Manson's namesake, Charles) has used it. Furthermore, The Beatles' alternate Second Version / Take 17 recording, unearthed for the White Album's 50th anniversary release, is an even wilder journey. "Keep that one," Paul says on the track. "Mark it fantastic." You should pay attention to what the man says.
Communication Breakdown in Led Zeppelin (1969)
To be honest, any number of songs – Whole Lotta Love, Dazed and Confused – might fill the Zeppelin slot on this list. But the award for sheer bone-crushing intensity goes to Communication Breakdown, whose machine-gun heaviest metal shock riff not only provided as a pattern for a billion speed metal bands to come, but also sounds eerily similar to the one Sabbath created for Paranoid a year later.
Furthermore, while Zep weren't the only late-Sixties group moving blues into a darker world, they accomplished it better – and, not insignificantly, faster – than their competitors with this piece.
Kick Out The Jams by MC5 (1969)
Rob Tyner's opening volley of "Kick out the jams, motherfuckers!" would be enough to get this proto-punk anthem on the list. It helps that what follows isn't Tiptoe Through the Tulips.
Rather, it's two and a half minutes of the most boisterous and rip-snorting riffage and electric-shock soloing ever captured on tape, courtesy of Wayne Kramer and Fred "Sonic" Smith. That vulgarity got the album (recorded live at Detroit's Grande Ballroom) banned and taken off the shops. What could be more metal than that?
Born To Be Wild by Steppenwolf (1968)
It wasn't the first time the terms "heaviest metal" were used, but for most music fans, this is where the term originated. Plus, vocalist John Kay follows it with the word "thunder," which adds to the bad-ass factor.
That being said, the title refrain is pretty heaviest metal in and of itself, and while Steppenwolf were never particularly "heavy," this song brought it all together with a chugging low-E string riff, raspy vocal, and shout-it-out-loud chorus that foreshadowed the sort of road-dog rockers that bands like Judas Priest and Motörhead would ride to glory years later.
Voodoo Child (Slight Return) by The Jimi Hendrix Experience (1968)
Jimi's huge, earthshaking heaviest metal riffs and wailing leads appear to pour down from the heavens, leaving nothing but a charred wasteland in their wake.
The song's sheer aural energy is stunning, and it's an early demonstration of how far a rock musician could carry the blues – which, in a sense, and in a very different way, is what Black Sabbath set out to do in their early days.
I Want to Be Your Dog by The Stooges (1969)
Even now, more than a half-century later, I Wanna Be Your Dog feels impossibly harsh, nasty, and downright dangerous.
The song is one big drone-y, dirge-y death-rumble, encapsulating Iggy's demented take on the blues, from the dark, descending chord progression to the buzz-saw guitar of Ron Asheton (who, along with his brother and drummer, Scott, were once referred to by head Stooge Iggy Pop as "the laziest, delinquent sorts of pig slobs ever born").
And the lewd lyrics, one-note piano trill, and, uh, sleigh bells only add to the absurdity.
In-A-Gadda-Da-Vida – Iron Butterfly (1968)
People often mock In-A-Gadda-Da-Vida, but as any heaviest metal band worth their long hair, leather, and pointed guitars can tell you, people often mock what they don't comprehend.
Forget about the superfluous 17-minute length. Forget about the title being a drunken parody of In the Garden of Eden. Forget that the band performing it is called Iron Butterfly. The combined guitar-and-organ heaviest metal riff is as dark, threatening, and downright groovy as anything laid down by Deep Purple, Uriah Heep, or any other keys-drenched heavy group. Still not convinced? Then ask Slayer, who delivered a scorching rendition to the soundtrack of 1987's Less Than Zero.
Mandrake Root – Deep Purple (1968)
The opening half of this early Deep Purple epic is fairly hefty, at least in the late-Sixties British blues-rock style. But Mandrake Root really takes off in the middle instrumental section, when drummer Ian Paice and bassist Nick Simper whip up the tempo and lay the groundwork for Ritchie Blackmore to finish the proceedings with some full-on psych-metal licks, growls, and howls, as well as a bit of neoclassical flair for good measure.
What was the weight of it? Heavy enough to be one of the very few early Purple cuts played by the famous MkII heaviest metal band of the 1970s. And if you can find one on YouTube, those versions are a lovely, instrument-abusing sight to behold.
Old Man Going by The Pretty Things (1968)
The initial 40 seconds of acoustic strumming in Old Man Going sound like Pinball Wizard before Pinball Wizard (and the concept album from which it derives, S.F. Sorrow, has been recognised as an influence on The Who's Tommy, even though The Who have disagreed).
But after that, Old Man Going blossoms with proto-Sabbathian beauty, most notably in Dick Taylor's doomy power chord riffing and, most notably, in Phil May's vocal, which, upon its release in 1968, any listener would have quickly deemed incredibly Ozzy-like – except that Ozzy, at least as we know him, didn't actually exist yet.