Best DIY guitar kits 2022
What can strengthen the bond between the player and the guitar? Of course, by building it yourself! Gone are the days when you had to source every individual component of the instrument yourself in order to build your own axe; the market is now brimming with some of the best DIY guitar kits we've ever seen.
DIY guitar kits include everything you need to build your own guitar from the ground up, which means your new pride and joy was built with your own blood, sweat, and tears (hopefully not literally). Building your own instrument provides a tremendous sense of pride and accomplishment, making it even more enjoyable to play once completed. In an era when everyone is concerned about the rising cost of living, building your own guitar can represent a significant savings over purchasing a ready-built branded guitar.
You also have the option of truly personalising your new DIY axe, from customising the headstock shape to finishing it in your own colorway. You also don't have to be an expert luthier to put together these DIY guitar kits – there are a variety of build difficulties. Many of them come with the electronics already soldered, allowing you to have more fun putting it all together.
You'll need some tools and some experience with a screwdriver, but most of these kits come with instructions, and there are plenty of helpful tutorial videos on YouTube.
Scroll to the bottom of this page for more information and tips on building your own guitar. Because some kits are only available in certain countries, we've divided the product round-up into two sections: US and UK.
BEST DIY GUITAR KITS: OASIS GUITAR RECOMMENDATIONS
We recommend the Stew Mac 335 DIY guitar kit to aspiring luthiers in the United States and Canada. It's not the simplest build, but the look of the wood and the finish on the body contribute to a really beautiful guitar that also sounds great.
We'd have to go with the Wilkinson Modern S DIY guitar kit for those in the UK and Europe. With Trev Wilkinson's fantastic parts, you can build a guitar that will resonate, intonate, and play well, and the combination of a humbucker and two single coils makes for a really versatile set-up.
Best DIY guitar kits: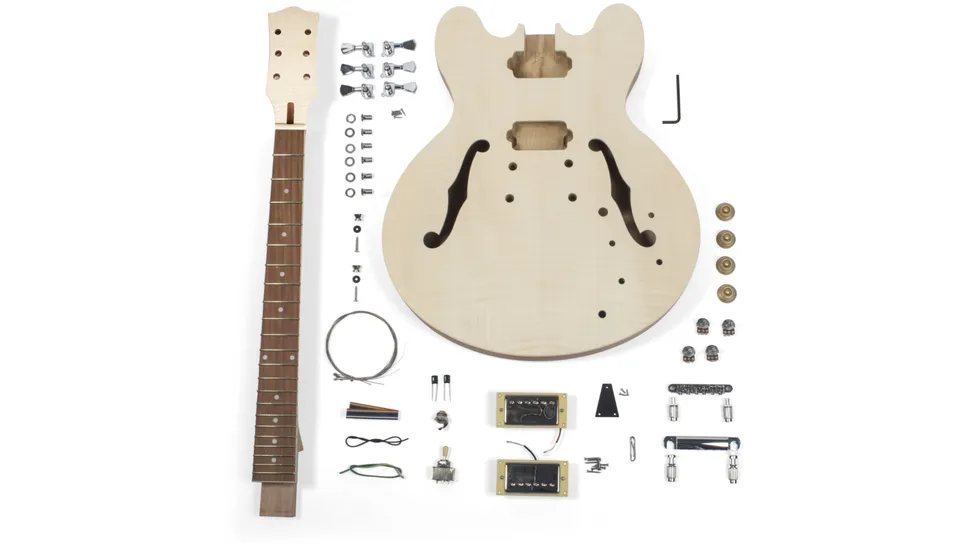 This DIY guitar kit showcases some great electric guitar tonewoods that put it up there with some high quality semi-hollowbody guitars on the market, with a flame maple veneer top that will look great – especially if you decide to add a burst finish – and mahogany back and sides. The binding on the body is particularly nice, and the F-holes are well cut. The centre block is already installed in the body, and the pickup routing is complete.
The neck appears to be well-made, with the frets properly seated and few rough edges (how consistent they are from unit to unit is unknown). The nut is already in place, but replacing it is something that many players will do later. The pickups sound great and deliver everything you'd expect from a pair of humbuckers once the neck is installed.
The Stew Mac 335 DIY guitar kit provides an enjoyable building experience; it is not the easiest, but the really difficult parts have already been completed, allowing you to concentrate on the more enjoyable parts!
Features
The 335 is a difficult guitar to build from the ground up, but we've eliminated the guesswork and this guitar is ready to build right out of the box.
We've already completed the most difficult tasks, such as glueing the body to the centre block and routing for the pickups, f-holes, and hardware.
Each kit includes a neck that has been individually matched and fitted to each body for a perfect fit—no there's need to worry about getting the neck angle just right because we've done it for you.
This kit features high-quality appointments (a beautifully flamed top, bound body and fretboard, and classic dot inlays), and we made certain that all of the details were correct—the routing is clean, the binding is straight, and the top is stunning.
Illustrated, step-by-step instructions for beginners are included. The complete list of kit contents can be found in the item description.
Specifications
| | |
| --- | --- |
| Brand | StewMac |
| Top Material Type | Maple |
| Body Material | Maple |
| Back Material Type | Maple, Mahogany |
| Guitar Pickup Configuration | H |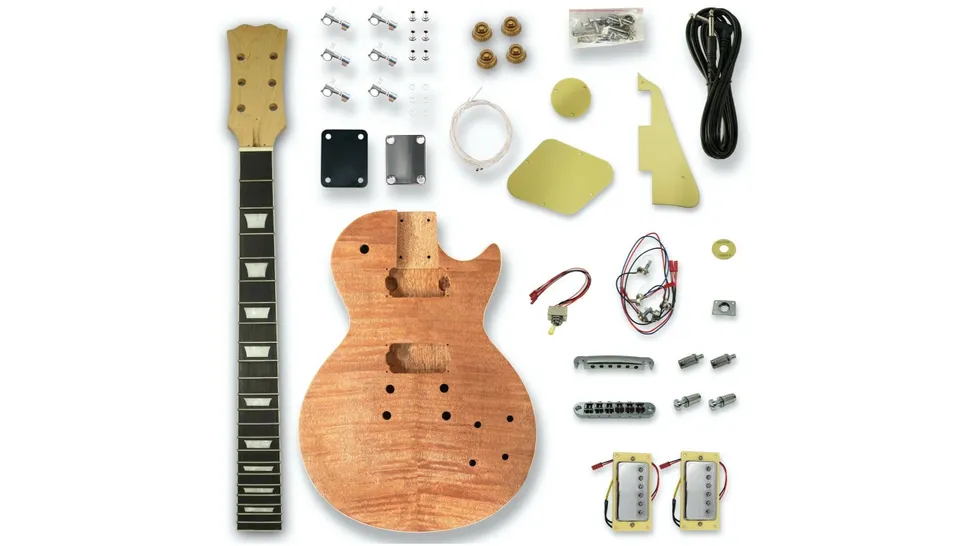 This BexGears Les Paul-style DIY guitar kit provides aspiring luthiers with a typical single cut aesthetic and a relatively simple build. An okoume body and curved mahogany veneer top is a slightly unusual wood combination than we're used to seeing on this sort of guitar, but it still looks and sounds great, and it helps keep costs down.
With this DIY guitar kit, all of the hard soldering has been done for you, leaving you with the task of clipping together all of the pickups and pots, etc. It's still enough to make you feel like you're truly getting involved, but it makes things a little simpler.
Once completed, you'll have a great-looking LP-style guitar with a pair of beefy-sounding humbuckers.
Features
EVERYTHING YOU NEED IN ONE BOX: This fantastic DIY guitar kit includes all of the parts and hardware required for a novice level build. Everything you need is in one box, eliminating the effort and price of locating all of the pieces.
HIGH-QUALITY COMPONENTS: The basswood body, 6 string hard maple neck with DYED poplar fingerboard, single-coil pickups, vintage tremolo, and die-cast chrome machine heads are all included in this build your own guitar kit.
PERFECT FOR YOUR STYLE: The body is cut and sanded but unfinished, allowing you to paint, stain, lacquer, or finish the guitar to your specifications. The maple neck also includes an unfinished headstock, allowing you to customise it to be wholly unique or a tribute to a legendary instrument.
SUSTAINABLE TONE WOODS: Bogart DIY guitar kits include sustainable wood that suits the needs of a changing planet. The revised fingerboard, made of DYED poplar, has a rich and natural grain that improves tone and loudness.
Specifications
| | |
| --- | --- |
| Color | Natural |
| Top Material Type | Maple, Poplar |
| Body Material | Basswood |
| Back Material Type | Basswood |
| Neck Material Type | Maple |
| Fretboard Material Type | Poplar Laminated |
| Guitar Pickup Configuration | S |
| String Material Type | Steel |
| Hand Orientation | Right |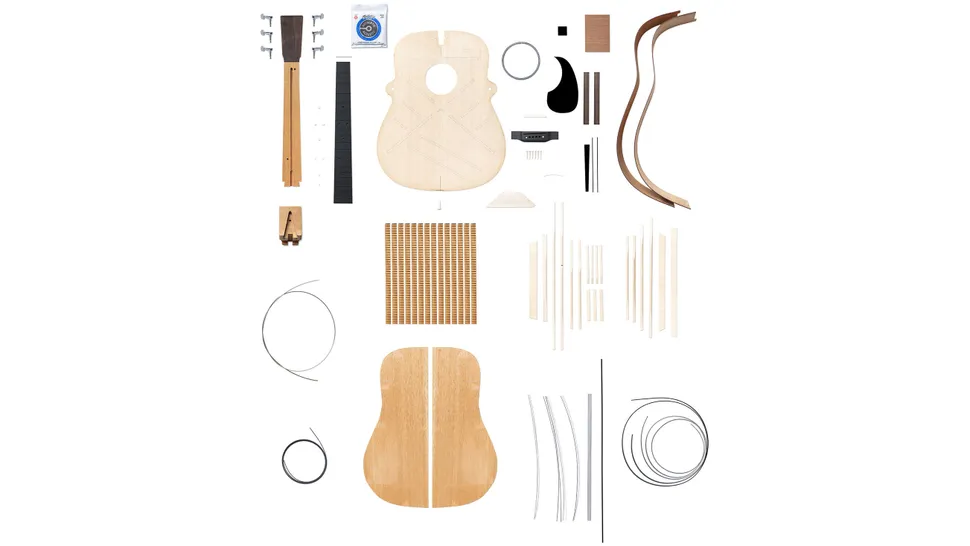 As a result, this DIY guitar kit is a little more difficult. All of the pieces for the iconic and timeless Martin dreadnought guitar are sent unassembled, which means you'll be responsible for glueing the body and fretboard to the neck, though there are no electronics to worry about with this one.
The body is made with quality tonewoods, including East Indian rosewood back and sides and a solid spruce top for that iconic Martin sound. The dreadnought body design produces a beautiful, deep bass end as well as sharp, detailed highs.
While this one is a little more complicated than other DIY guitar kits, you'll end up with an unbranded Martin dreadnought guitar.
Features
Acoustic Guitar: The Martin Smith W101 acoustic guitar boasts a dreadnought ergonomic body with a high gloss finish that is built for playability.
Steel Guitar Strings with Metal Gear-heads: Designed to make tuning your guitar easier and keep it in tune for longer, the steel guitar strings on this acoustic guitar ensure you spend less time tuning and more time playing.
Guitar Tuner: No acoustic guitar beginning kit would be complete without a guitar tuner; this clip-on guitar tuner is simple to operate and gives the user clear feedback.
Guitar Stand: When you're not performing, the folding guitar stand included in this bundle will keep your acoustic guitar secure and beautifully displayed.
Guitar Strap: Whether you are looking for a kids guitar or an adult guitar, everyone has a particular playing technique, and the included guitar strap in this package will assist those who choose to stand while playing.
Specifications
| | |
| --- | --- |
| Color | Natural |
| Top Material Type | Maple, Poplar |
| Body Material | Basswood |
| Back Material Type | Basswood |
| Neck Material Type | Maple |
| Fretboard Material Type | Poplar Laminated |
| Guitar Pickup Configuration | S |
| String Material Type | Steel |
| Hand Orientation | Right |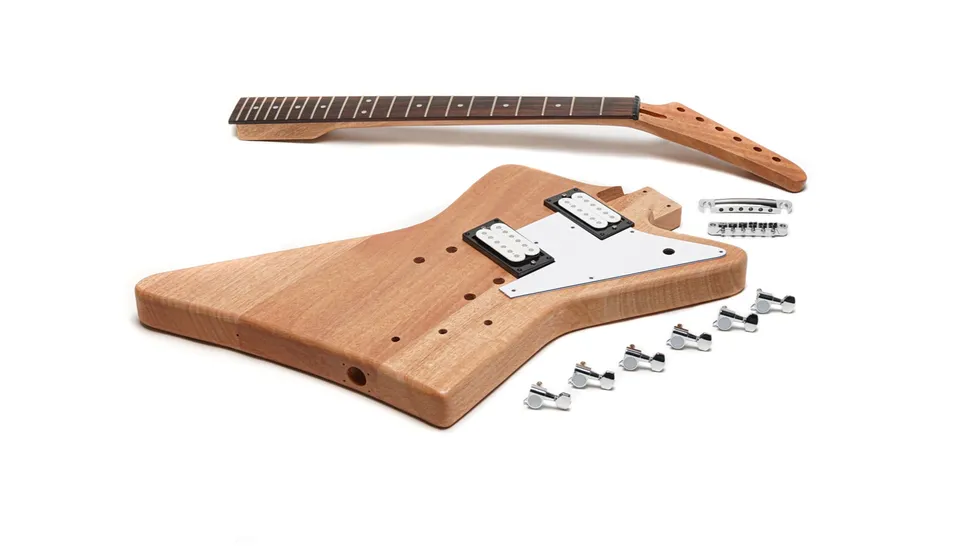 Want to make a statement with your handcrafted guitar? Then check out Solo's hard rock machine. Like most finished guitars with this body style, it has a mahogany body and a mahogany neck with a rosewood fingerboard.
All of the wood cutting and routing has already been completed, and the headstock is in the shape that you could expect from this sort of guitar. All of the cabling and electronics are included, and getting it all up and running will need some basic soldering, but that's all part of the fun!
Once built, you'll have a rock solid electric guitar outfitted with a pair of humbuckers to assist customise your tone to your style.
Features
This DIY Guitar Kit includes everything you'll need to create your own unique Electric Guitar.
Our factory team has already done all of the wood cutting, drilling, and shaping professionally. To finish this kit, you'll need some basic tools and finishing supplies.
A full handbook with step-by-step instructions is supplied to assist you in completing the kit.
| | |
| --- | --- |
| Brand | Solo Guitars |
| Body Material | Mahogany |
| Neck Material Type | Maple |
| Fretboard Material Type | Engineered rosewood |
| Guitar Pickup Configuration | H |
| Hand Orientation | Right |
| Guitar Bridge System | Tune-O-Matic |
| Number of Strings | 6 |
BEST DIY GUITAR KITS: BUYING ADVICE
Assembling your own DIY guitar kit
When deciding on the best DIY guitar kit for you, consider how simple it is to assemble. If you're brand new to it all, seek for something simple to put together. You'll ideally want pre-soldered electronics and as few parts as possible, so seek for a hardtail guitar without a tremolo unit.
If you're used to doing handyman work or tinkering around the house, you can opt for something a little more complex, with a few more pieces to dig your teeth into.
The quality of DIY guitar kits varies as well. Some of the less expensive kits may not be as high-quality as others, but they may be the greatest option for someone who is just getting started with creating their own guitar. Lesser quality hardware will most likely influence tuning stability and resonance, but they're a rather simple part to update if you so desire.
Finding an aftermarket pair of decent tuners, while maybe more expensive, could do wonders for your completed product. You should think about the completed product as well. Examine the pickups carefully; if you've always wanted the jangle and bite of single coils, you don't want to go for a Les Paul style kit, even if it's faster to construct.
Also, if you don't want a very hefty guitar at the end of it, pay attention to the woods used, as these will affect the weight of it. Things like fingerboard radius can have an effect on how the guitar plays once it's finished, so check it out if it's going to change how you react to it.
DIY guitar-building advice
A good set of tools will make the work of creating your guitar easier. They say a bad worker blames his tools, but in this situation, your screwdrivers won't get you very far. On that note, a thorough set of screwdrivers will assist ensure that everything is properly fastened in place, resulting in a guitar that resonates better and is less prone to come free.
Although the best DIY guitar kits are usually pre-sanded, giving it another go-over yourself will result in a better finished guitar. You could even sand the neck profile to fit your playing style. A brief examination of the frets is usually beneficial as well. Filing down or cutting any slightly troublesome frets will improve note ring out and playability. Also, while it may seem apparent, we always recommend following the directions with these DIY guitar kits.
Read them attentively and do what they advise to achieve the best results possible. Include your personal style where possible, but keep in mind that the makers most likely know best!