Because of their longer scale, the best baritone guitars can easily reach those low tunings you've always wanted to try. While you can occasionally get away with tuning a regular-scale guitar down to the pitch, you will run into any setup issues. On the other hand, Baritone guitars beg to be played in a lower register and will do so effortlessly.
If you try this on a regular guitar, your intonation may be off, and string gauge and playability may be a problem. This is not the case with the best baritone guitars. They'll typically ship tuned to B-E-A-D-F#-B, a fourth lower than standard tuning, but you can adjust them lower or higher.
Many of the best electric guitar brands and some familiar acoustic guitar names can be found hiding behind these down-tuned beauties. We're talking about six-string masters like Gretsch, PRS, Squier, and ESP, making arguably the best baritone guitar for metal. Let's take a closer look at lowriders.
OUR SELECTION OF BEST BARITONE GUITARS
Nothing beats the stunning PRS SE 277 as the best baritone guitar overall, in our opinion, a guitar that amply covers all the bases as a standout baritone electric. The PRS 85/15 "S" humbuckers can handle the heaviest tones while still cleaning up nicely, and they have a coil-tap for single-coil twang if you get tired of splitting the atom with high-gain madness. A good value for money guitar.
The Gretsch G5260 Electromatic Jet Baritone, a retro-cool ax with bags of attitude, comes in a close second. The G5260 will reward you with vintage class and contemporary playability, whether you choose the hard-tail or the licensed Bigsby-equipped model, making it an easy addition to our best baritone guitars bonanza. Gretsch's Electromatic series offers exceptional value, and this one is no exception. The G5260 has your low end covered for everything except modern metal.
PRODUCT GUIDE FOR THE BEST BARITONE GUITARS
PRS SE 277 Electric Baritone Guitar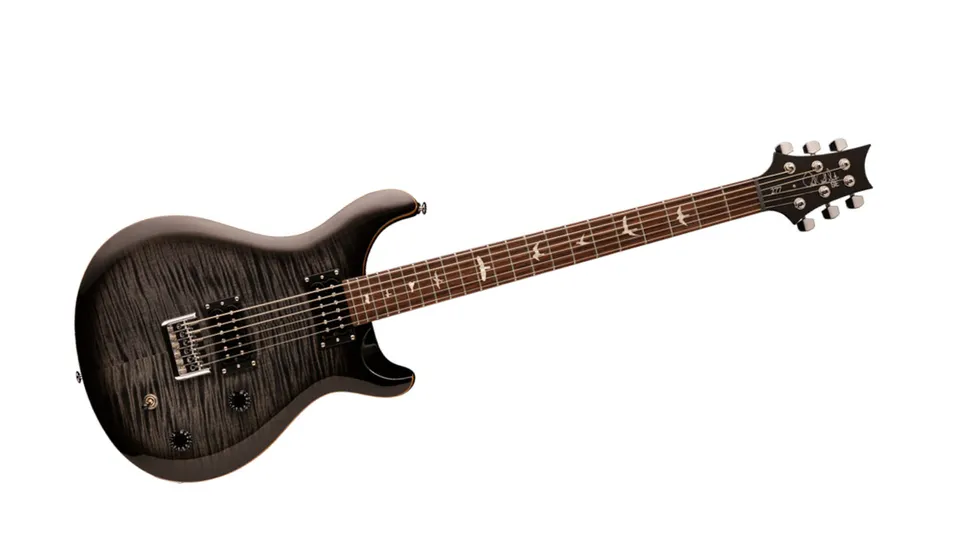 The PRS SE 277 is an excellent example of a baritone electric that can be used for metal, following in the footsteps of the Mike Mushok SE model. However, it's equally at home in more relaxed settings, with your slippers on and the gain turned down, picking through jazz chords, or simply giving your compositions a new range.
This electric baritone guitar is entirely up to you. WHEN TUNED TO B, the PRS SE 277 will lean its slab mahogany and maple veneer shoulder into bruising riff-work and has a 27.7″ scale (hence the name).
That push/pull coil split also allows you to expand the musical potential of the excellent PRS 85/15 S humbuckers. You can add spaghetti western or old-school rock 'n' roll twang to your down-tuned chug.
With its impeccable build and finish, perfect balance, classy aesthetic, and reasonable price, the PRS SE 277 makes a strong case for being the best baritone guitar.
Also check Best Electric Guitar Cases in 2022.
Reverend Descent HC90 Electric Baritone Guitar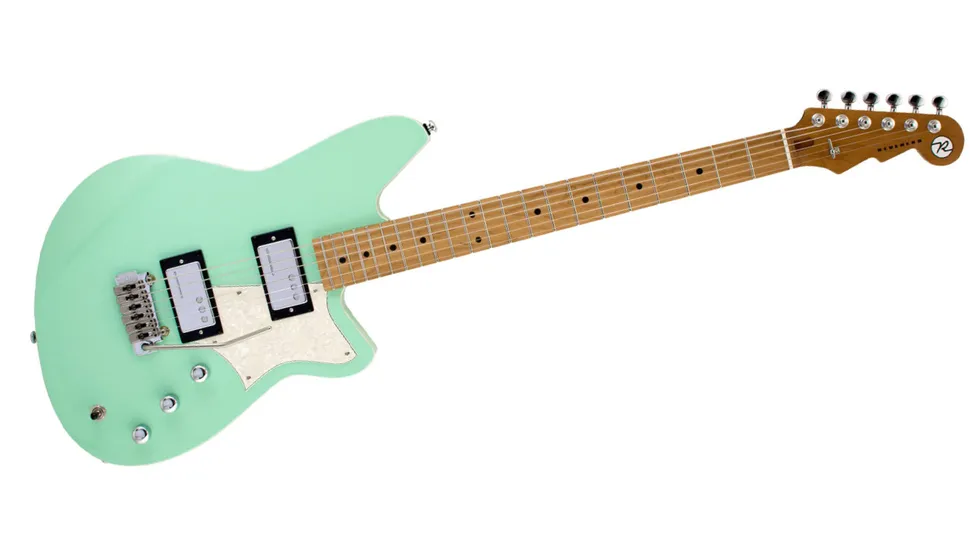 The Reverend Descent HC90 is a very cool modern take on a vintage Fender design that never existed, to begin with. It has a rock 'n' roll kitsch vibe with its Jetsons-Esque offset body shape. Still, the hardware – Wilkinson vibrato, pin-locking tuners – the Railhammer Humcutter pickup pairing and clever electronics make it a severe deadly option.
The pickups on the Reverend Descent HC90 Electric Baritone Guitar are wired with standard volume and tone controls and a bass contour control for fine-tuning the low end. You'll be able to coax all kinds of tones from the Descent, and it's very approachable for a baritone.
The scale is over an inch longer than a standard Fender, and the roasted maple neck is carved into a comfortable oval C-profile neck that is neither too fat nor too thin. The tone has a classic bolt-on snap but plenty of meat on the bones.
Gretsch G5260 Electromatic Jet Baritone Guitar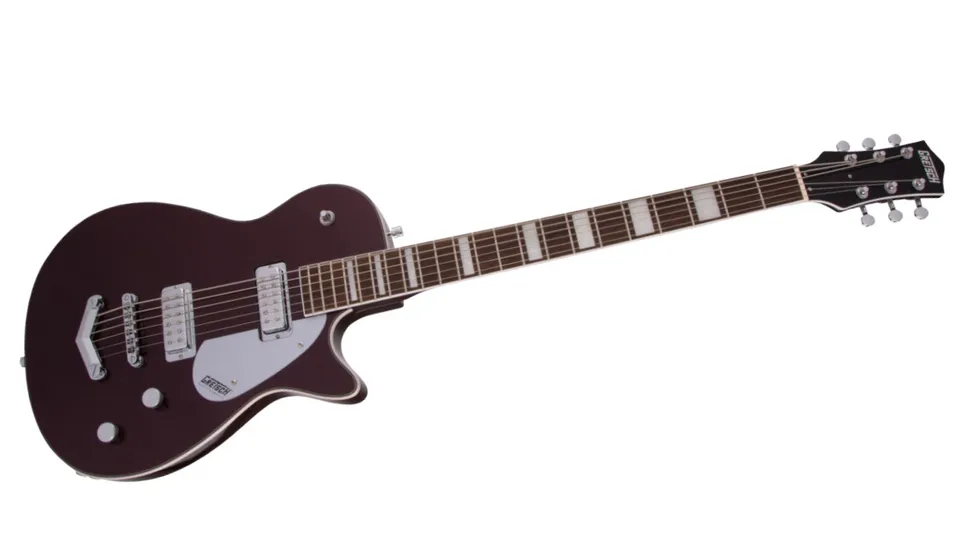 Playing a Gretsch is always a welcome distraction from modern life, and the G5260 Electromatic Jet Baritone Guitar is no exception. It features the classic Jet silhouette, G-Arrow chrome controls, and the option of a V stop-tail or licensed Bigsby vibrato. And yet, this is Gretsch for uncanny valley gigs because there is just so much guitar.
For some, the Gretsch G5260's nearly 30″ scale length and slab mahogany construction make it a substantial lump of wood to wrap your arms around, but that neck profile is very comfortable. The G5260 is a fun ride once you get used to that extra fretboard runway (it's like a short-scale bass).
Play it through a small Fender tube combo with plenty of spring reverb, and you'll be riding the waves of deep surf tone in no time. Dial slapback for a sonorous rock 'n' roll voice means that your only fear is that an authority figure will step in and confiscate it—the best baritone guitar for surf rockers, without a doubt.
Squier Paranormal Series Cabronita Baritone Telecaster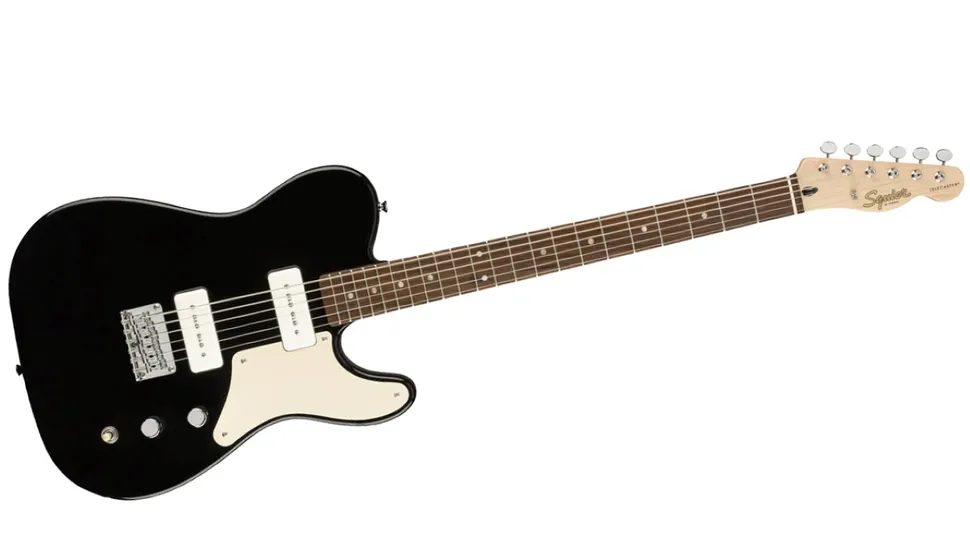 The Telecaster has long been a popular choice for the six-string rebel. Still, this low-cost Squier Paranormal Series Cabronita, with its 27″ baritone scale, black finish, and oversized soap bar single-coil pickups, takes it to the next level.
Its appeal stems from the fact that it takes the simplicity and enduring appeal of the Telecaster design – rarely matched, never beaten – and offers a clever variation on a theme. And while the Cabronita baritone guitar is unmistakably cool, everything here is designed with functionality in mind.
Check out the string-through-body bridge design, which features individually adjustable saddles for fine-tuning intonation. Fender pickups do an excellent job articulating the low end without losing detail or mushing out.
You could use this for down-tuned punk and grunge, but through a clean amp with some spring reverb and slapback echo, this is the best baritone guitar if you want a rock 'n' roll machine with an almost oceanic depth to its voice.
ESP LTD Stef Carpenter SC-607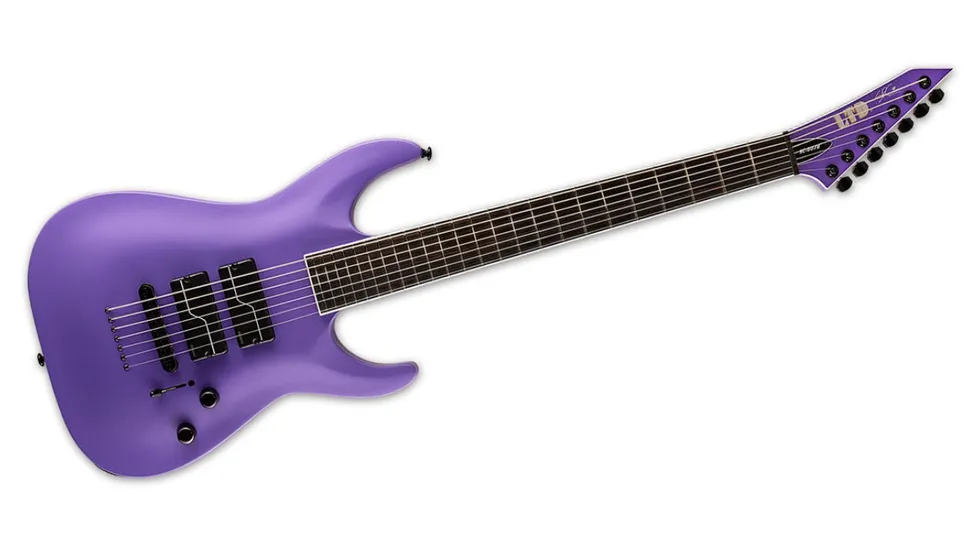 Choose this Stef Carpenter 7-string if your riffs are metal – or metal-adjacent – and you want to encamp them right in the register of the bass guitar for maximum devastation. That is undeniably possible with the ESP LTD Stef Carpenter SC-607.
The Deftones guitarist's long-running collaboration with ESP has resulted in some of the finest state-of-the-art guitars for low-end riffing, but the SC-607 may take the cake. It has an old-school 1980s look, a seven-in-line headstock, a heavily contoured double-cutaway body, and a thin U-profile neck that balances blazing speed and all-night comfort.
The electronics are of the twenty-first century, with push/pull active-passive modes. These allow you to switch between Modern Active for when you want to leave a crater in the ground while playing and Modern Passive for a more traditional humbucker response, ideal for cleaning things up.
The build quality of the ESP LTD Stef Carpenter SC-607 is excellent, as is the specification. And, even though this is a signature guitar, there are no flashy graphics or flourishes to deter those looking to make this one their own. This is the best baritone guitar for melting faces with massive-sounding riffs.
ADVICE ON BUYING THE BEST BARITONE GUITARS
While it remains a niche instrument, the best baritone guitars market provides plenty of options regardless of the style you want to play – they've even found favor among metalheads looking to add some cargo to their riffs.
In the late 1950s and early 1960s, rock 'n' roll and surf rock players used electric baritone guitars to add a more rounded thump to their twang. In contrast, baritone acoustics have been around for a long time.
Consider what you intend to use your baritone for and how much of your budget you want to devote to it when selecting among the best baritone guitars. There are options for every budget, so there is something for everyone. While we resisted the urge to fill our list with electric baritone guitars voiced for high-gain playing, it's worth noting that this is where the action is in terms of baritone development. ESP/LTD is leading the charge in this area. Indeed, one of its Stef Carpenter Signature Series sluggers had to make our list of the best baritone guitars.