50 Easy Acoustic Guitar Songs for Beginners
Easy acoustic guitar songs for beginners have a unique quality. Perhaps it's because you've heard them for years at bars, on patios, or while sitting around a campfire. Perhaps it's because so many people know the words. Perhaps it's because covering your favorite artists, from Pink Floyd to Jason Mraz, is an enjoyable way to learn the instrument.
People enjoy singing along to acoustic guitar for whatever reason. Beginner and intermediate players can entertain a crowd or have fun performing songs ranging from Hey there, Delilah to Mary Had a Little Lamb, regardless of how easy the song is or what the chord progressions are. From the House of the Rising Sun to Achy Breaky Heart.
With this in mind, we put created a Easy Acoustic Guitar Songs beginners guide to whole songs as well as easy versions of harder ones. Many of these harder songs contain a challenging guitar chord or a strumming pattern that we wouldn't consider basic.
So when some of these songs are slightly altered, such as substituting a D minor for a D, a more difficult song becomes a novice song! Everyone in the room will know you're listening to "Knocking on Heaven's Door" or "Sweet Home Alabama."
What Characteristics Fefine An Easy Acoustic Guitar Songs?
A selection of incredibly easy acoustic guitar songs for beginners is somewhat subjective. We followed various principles when making this list so that it would be a compilation of songs suitable for beginning guitarists.
There are no songs on our list of easy acoustic guitar songs that can't be played with four guitar chords or less. The majority are performed with three chords. We also avoided the terrible "F" chord, as well as any other barre chord. All of the chords you'll need are given next to the song, allowing you to easily identify songs that you can play using the chords you already know. Finally, many of the songs include a link to a video tutorial that demonstrates how to play the songs!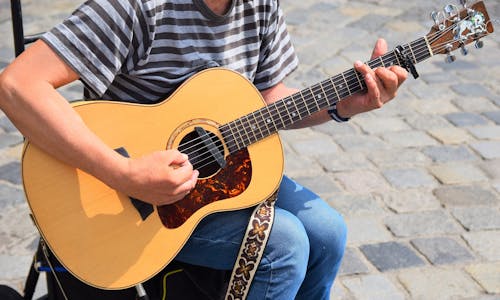 We attempted to make sure that many of these easy acoustic guitar songs were enjoyable to play, and we also included some songs from diverse genres and for different audiences on this list. There are cheerful guitar tunes, easy kids guitar songs, rock guitar songs, easy guitar pop songs, and everything in between.
A Word About Strumming Patterns Of Easy Acoustic Guitar Songs
Adding a complex strumming pattern to any easy acoustic guitar songs while learning it will only make it more difficult. The availability of guitar tab or easy chord charts for these tunes is only half the battle. Before moving on to sophisticated strumming or finger-picking, we aim to teach a novice guitarist a few easy acoustic guitar songs and a progression or two.
The first thing you should do is purchase a metronome. You may buy cheap ones on Amazon or simply download one on your smartphone.
Except for one, all of the easy acoustic guitar songs on this list are in 4/4 time. The exception is David Gray's "This Years Love," and we've included a video that walks you through the time for that song (it's in 6/8).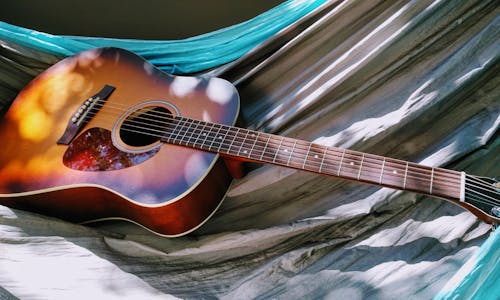 We Recommend Guitar Chord Books
While the list we've compiled contains a terrific selection of songs that simply use basic chord progressions, there are always more to be found. You can also find books dedicated to specific types of players, such as easy pop songs for beginners and easy guitar tunes for youngsters.
It's helpful to have a physical book nearby when studying, especially if you have any chord-related queries, therefore we've linked to some of our favorite guitar chord books! ​
50 Easy Acoustic Guitar Songs for Beginners
Just a quick note before we begin. We attempted to arrange them in some sequence, with the easier ones first, but it will be far from ideal. We also attempted to obtain all three chord tunes initially, followed by four chord songs.
If you prefer to look at these easy acoustic guitar songs tabs, read this article till the end.
Choose an easy acoustic guitar song that you enjoy, learn the chords, and then practice strumming. Better still, choose a few songs with similar chords so you may learn different chord patterns and easy acoustic guitar songs while still being able to play your favorite songs!
Also, have fun!
1. Walk of Life - Dire Straits - A, E, D

2. Moves Like Jagger - Maroon 5 - Bm7, Em7

3. Wonderwall - Oasis - Em7, G, Dsus4, A7sus4 (Never move two fingers!) 

4. Sweet Home Alabama - Lynard Skynard - G, D, C

5. Feelin' Alright - Traffic - A, D

​6. Can't You See - Marshall Tucker Band - D, C, G 

7. What's Up - 4 Non Blondes  - Am, C, G

8. I Walk the Line - Johnny Cash - A, D, E

9. How Bizzare - OMC​ - A, D, E

10. Old Time Rock n' Roll - Bob Seger​ - G, C, D

11. Glory Days - Bruce Springsteen - A, D, E

12. Bottoms Up - Brantley Gilbert​ - Em, C, D

13. Leaving On A Jet Plane - John Denver  - C, D, G

14. Bad Moon Rising - Creedence Clearwater Revival ​- D, A, G

15. Free Falling - Tom Petty - A, D, Dsus4

16. Heros - Wallflowers -  C, D, G

17. Say it Right - Nelly Furtado - C, D, Em

18. Hound Dog - Elvis Presley - E, A, B7

19. A Girl Like You - Edwyn Collins - Em, D, C

20. Lay Down Sally - Eric Clapton - A, A7, D, E

21. She Will Be Loved - Maroon 5  -  Am, C, G

​22. Blowing Smoke - Kasey Musgraves - E, A

23. Common People - Pulp - A, D, E

24. Love Me Do - The Beatles- A, D, E

25. Louie Louie - The Kingsmen - A, D, Em 

26. All Summer Long - Kid Rock - D, C, G

27. Fallin - Alicia Keys  - Am, Dm

28. Marry You  -  Bruno Mars  - D, Em, G

29. Brown Eyed Girl - Van Morrison - G, C, D

30. This Years Love - David Gray - C, D, G, Em

31. Breakfast at Tiffany's - Deep Blue Something  - A, D, G

32. Want Somebody To Love - Jefferson Airplane​ - G, D, Em, A

​33. Stand By Me - Ben E. King - G, Em, C, D

34. Used to Love Her - Guns n' Roses  - A, D, G

35. Doll Parts - Hole  - A, C, D

36. How to Save a Life - The Frey - G, D, C, Em

38. Still Haven't Found What I'm Looking For - U2   - A, D, E

39. Break On Through - The Doors  - D, Em

40. Laundry Room - The Avett Brothers  - Am, C, G

41. Day After Day - Alan Parsons Project  - Am, C, Em, G

​42. Back to December - Taylor Swift  - Am, C, Fmaj7, G

43. For your Love - The Yardbirds  -  Em, G, A, Am

44. Knocking on Heaven's Door - Bob Dylan - G, D, Am, C

45. Turn The Page - Bob Seger  - A, C, D, Em

​46. Save Tonight - Eagle Eyed Cherry  - Am, Fmaj7, C, G

​47. Mad World - Gary Jules - Em, G, D, A

48. Working Class Hero - John Lennon - Am, G, D

49. That'll Be The Day - Buddy Holly​ - C, G, D7

​50. Line of Fire - The Veronicas  - Am, C, Em, G

Is there a beginner song that we didn't include? When comments come in, we'd love to grow this list and keep it up to date as new songs are published, so please let us know!
There are literally thousands of other songs by artists such as Eric Clapton, Jason Mraz, Red Hot Chili Peppers, Sam Smith, Pink Floyd, Aerosmith, Lynyrd Skynyrd, Bob Marley, John Denver, Johnny Cash, Creedence Clearwater Revival, Bob Dylan, and John Lennon that use easy guitar chords or can be adapted for beginner and intermediate players.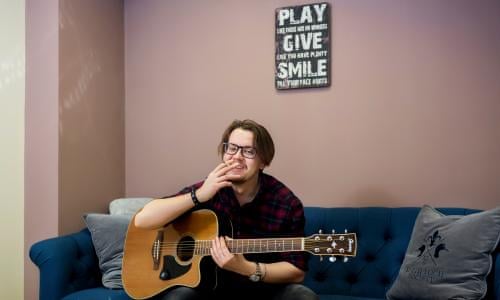 The Final Word
Do you need extra assistance learning to play the guitar? Oasis Guitar contains a wealth of information ranging from purchasing a beginner guitar to chord charts, speed progression, and much more. Check out our entire collection of guitar information before you leave!