Jasmine S35 Acoustic Guitar Review
When selecting an affordable acoustic guitar, the market is flooded with a bewildering array of choices. Household names like Fender, Epiphone, and Yamaha compete against lesser-known brands in the same super-budget category.
Jasmine is one of the lesser-known brands. You might think that the Jasmine s35 is an unusual choice for a guitar review. However, this relatively unknown guitar manufacturer can compete to produce high-quality instruments at entry-level prices.
The Jasmine s35 affordable acoustic guitar sound demonstrates the brand's expertise.
Let's look at this acoustic guitar and try to figure out how something so inexpensive can sound so good…
Before we go any further, We'd like to hear from you in the comments section. What was the name of your first acoustic guitar?
Jasmine s35 – An acoustic guitar for beginners
Every musician's journey began somewhere with something. That means that most people save money for a long time to start their musical journey or assist their sons and daughters in beginning their journey.
Regular customers, who make up the majority of customers, prefer to save money to pursue a reputable brand.
Overview
The Jasmine s35 is a great sounding guitar that is also very affordable. People who work hard are always cautious about where they spend their money. As the saying goes, most things cheap are ultimately garbage.
However, this is not the case with the Jasmine s35. This guitar is light, attractive, and simple to play. And it fulfils the criteria for dreadnought budget acoustic guitars.
Takamine, a premium Japanese acoustic and electro-acoustic guitar manufacturer, contributed to its success. Its original design ensures a firm tone, a rich acoustic, and a well-balanced sound. It's also quite loud and defined.
Everything about it makes it a fantastic deal. It even comes with a low-cost package that includes a step-by-step guidebook and a DVD with lessons.
If you're looking for a beginner acoustic guitar, the Jasmine s35 is more than capable of sound and appearance. Regular customers would also find the Jasmine S35 to be an excellent choice.
Its features set it apart from the rest of the guitars in its price range and higher. This is one of the best acoustic guitars for beginners, in our opinion.
Build and design
A high-quality Japanese guitar manufacturer, Takamine originally sold and designed the Jasmine s35.
KCM Music Company, a Chinese factory, recently took over ownership of Jasmine guitars. The guitars are still very similar to their original counterparts.
The KCM Jasmine provides good quality, but there is some compromise. That is understandable when purchasing at such a low cost-
Its body is made of laminated materials in this case.
Let's get specific. The Jasmine s35 acoustic guitar has a "dreadnought" body and a scale length of 25.5 inches. It's made with selected laminated spruce on top and laminated nato on the back and sides.
Martin & Company created the first dreadnought guitars in 1916. These guitars have a larger body and distinctive square shoulders and bottoms.
25.5″ scale guitars are now the largest of the bunch. When these two features are combined, the Jasmine becomes a big and loud guitar, which means it's not a good choice for a kid's guitar.
Takamine created the original Jasmine s35 acoustic guitar. This guitar is made of the wood similar to mahogany. Agathis is a robust and lightweight material with round mids and bright highs.
It has a nato neck and a smooth rosewood fretboard. It has 20 frets and Pearloid dot inlays. 1.75″ is the width of the nut.
The model isn't particularly fancy. Nonetheless, it's a nice guitar with a lovely satin finish, a sturdy build, and smooth playability. Much, much more than you're paying for.
We must emphasize the satin finish because it serves two functions. First and foremost, it makes this guitar appear high-quality rather than low-cost. Second, it aids in the optimization of resonance and sound quality.
Hardware
The hardware section contains nothing out of the ordinary. Nonetheless, the components opt for dependable guitar material.
A rosewood bridge with a synthetic bone compensated saddle is located at the bottom of the instrument, and the nut is also made of rosewood.
A set of chrome-covered tuners is located on the headstock. They can hold a tune reasonably well, but not as well as their Epiphone or Squier competitors.
Playability
This is a comfortable and enjoyable guitar to play. Its users like how soft and smooth this guitar feels in your hands. It's also lightweight, portable, and comfortable to play for extended periods.
The best thing that people like about it is that retains the shape of the original Jasmine s35, and Takamine's design prioritizes user comfort.
The Advanced "X" Bracing design on the fretboard and the slim neck add to the playability. Both options provide users with easier access to higher frets.
Finally, the guitar's lightweight and slim neck make it a breeze to play. While it is a powerful instrument for children, teenagers will enjoy it.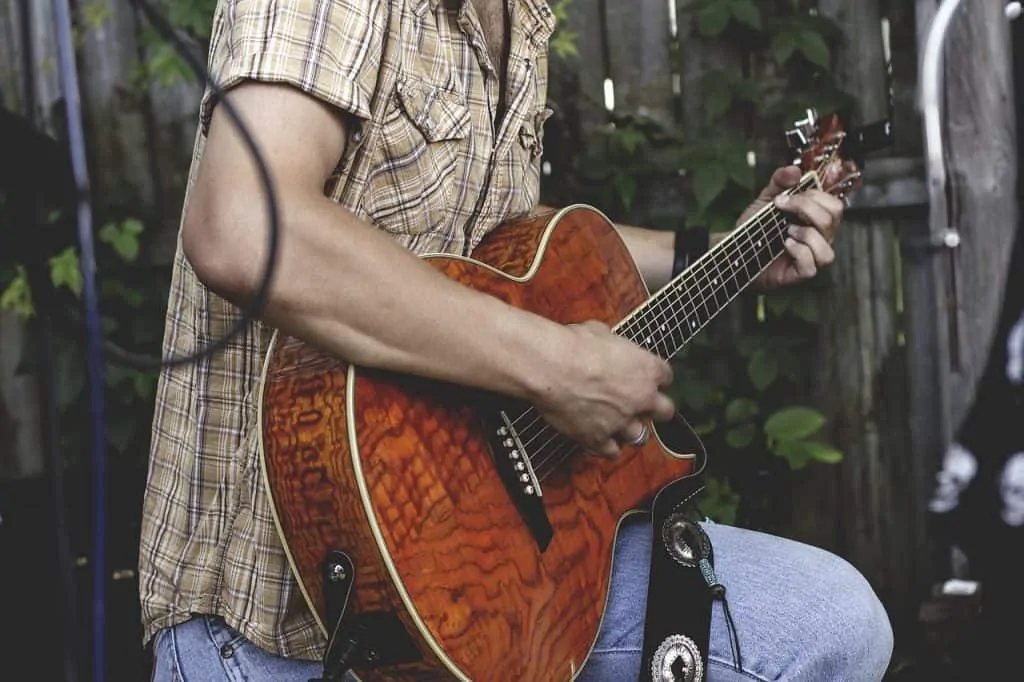 Tone and sound
You're probably not expecting much from budget acoustic guitars in terms of tone. The majority of acoustic axes in this price range sound the same.
Nonetheless, Jasmine S35 is a pleasant surprise. The acoustics are loud, significant, and precise, and the tone is well balanced.
However, this is not a stage guitar, and there's just enough material for beginners and intermediate guitarists looking for a cheap instrument to bang around on and travel with.
As you can see, solid wood is an essential component of high-end acoustic guitars, and at this price point, that does not exist.
What matters most about guitars is how they sound. Aesthetic features are purely for show, and playability is simply something to get used to.
As a result, we recommend the S35 as an excellent investment for beginning and intermediate guitarists. It produces a rich and balanced sound with a strong midrange and lovely treble.
This results in a warm tone with well-balanced highs and mids. And while the lows are a little thin, the overall sound is complete.
Its Advanced "X" bracing is one of its best features. That means the braces on the guitar are arranged in an X pattern, closer to the acoustic hole. This design improves note detail and allows the guitar's top to vibrate more freely for a better sound. It also makes the guitar lighter.
Bottom line, the Jasmine s35 quickly impresses even sound purists for such a low price. Finally, the S35 does not say cheap or entry-level.
Conclusion
On the negative side, the Jasmine s35's construction may have flaws. Because cheap guitars are made in factory assembly lines, inspect your guitar upon arrival for defects.
The synthetic bone saddle is occasionally placed a little too high.
Another complaint from users is that the guitar is entirely out of tune right out of the box, making it unsuitable for complete beginners. That, however, is something that can be fixed by a friend, a guitar shop (for a small fee), or your guitar teacher.
Nonetheless, the guitar is quite playable when it is brand new. Remember that Takamine was the original s35 manufacturer, so some of their quality controls are still in place. That is why most people are pleased with what they receive, particularly the sound and quality of the s35.
If we had to pick one phrase to describe how most users feel about this guitar, it would be "great value."